5 Trending Workouts for Fall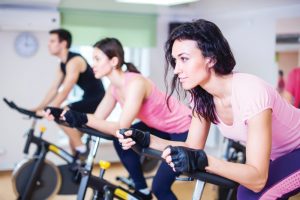 Studies show that getting a little exercise can greatly improve mental well-being. If you need a little extra push to get moving, consider an out-of-the-box regime that is not only fun but will help you work up a sweat too.
Try these five trendy workouts to get out of your workout rut and have fun while trying something new.
Barre. One of the trendiest workouts on the fitness scene, barre uses a single piece of equipment — a ballet barre. With its origins in dance, this workout will strengthen and tone your body while improving your flexibility. No dance experience required.
Trampoline. Who doesn't love trampolines? This unique workout combines bouncing up and down on individual trampolines with upbeat music to get your heart rate going. Group classes often incorporate small hand weights and choreography to ramp up the fun and get in a killer workout. Don't forget to pack your workout clothes in a trendy gym bag like one from Under Armour available at Sport Chek.
Indoor Surfing. Even if you don't live anywhere near a beach, you can get a great surf-inspired workout with indoor surfboards. A surfboard workout includes lots of squats, ab movements, twisting and jumping to mimic the actual workout you get while riding the waves.
Rowing. Taking water workouts indoors, group rowing classes are on the rise. Using rowing machines, this workout encourages participants to be competitive with team races. Prepare for a great workout that engages the upper body, core and your competitive spirit.
Spin. Spinning is back and more popular than ever. This high-intensity workout includes a stationary bike and energizing music to work up a sweat. Don't forget to bring a water bottle big enough to hold enough water to keep you hydrated. Nalgene water bottles are as hard-working as you are, and can be picked up at your local Sport Chek or online.
www.newscanada.com